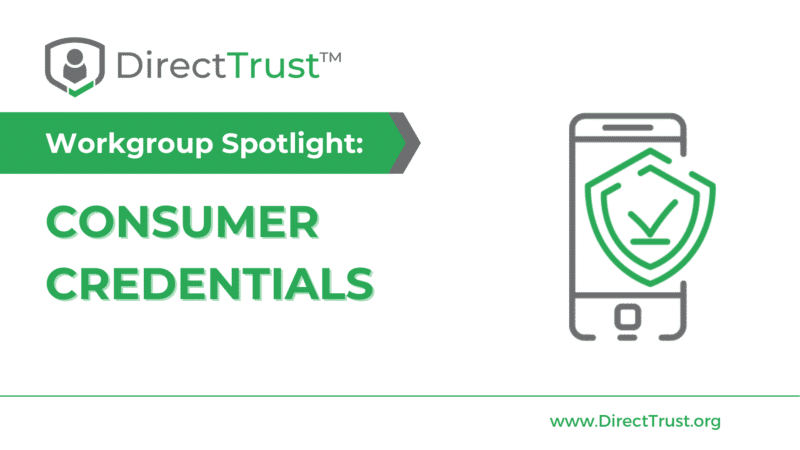 The bedrock of DirectTrust is collaboration, and as a membership organization, DirectTrust facilitates focused Workgroups to advance use cases, as well as support and promote the DirectTrust network and trust framework.  Learn more about the newly formed Consumer Credentials Workgroup below! 
What is the goal of the Consumer Credentials Workgroup?
The Consumer Credentials Workgroup is focused on articulating, as efficiently as possible, use cases and best practices for individual identity management that bring confidence to, and eliminate friction in, secure health information exchange transactions, grounded in DirectTrust's trust framework as a foundation.
Who are the Consumer Credentials Workgroup Co-Chairs?
Don Jorgenson, Inpriva, and Julie Maas, EMR Direct lead the Workgroup.
Why was the Consumer Credentials Workgroup established?
This Workgroup was established to figure out what standards, services and technologies are required for DirectTrust to play a role in the identities space around the FHIR ecosystem. The three layers of communication we are concentrating on are trust, which we have a reputation of handling already, federation, and patient matching.
This Workgroup is an evolution of the former FHIR Security and Trust Workgroup. Additionally, the Patient and Consumer Participation Workgroup have paused their regularly scheduled meetings to join forces and assist in the Consumer Credentials effort.
How often does the Consumer Credentials Workgroup meet?
The Workgroup determined that a twice monthly cadence is important given the high priority of the topic and the many activities the group will be focused on.
What else is unique about the Consumer Credentials Workgroup?
In order to accelerate this consumer credential effort, we are partnering with the Johns Hopkins University Applied Physics Laboratory, as this effort aligns with their non-profit mission. As this group evaluates the needed standards, technologies and services that DirectTrust and our community would need to deploy to act as identity providers for API based health information exchange and the FHIR app ecosystem, JHAPL will be an independent counsel to the group to help make these important decisions.
How can I get involved with the Consumer Credentials Workgroup?
Reach out to the Team at DirectTrust for more information on how to get involved!