Interested in learning more about Event Notifications via the Direct Standard™? Read on to receive answers to frequently asked questions! Additionally, check out a great video series from two of the members who helped create the Implementation Guide for Event Notifications via Direct.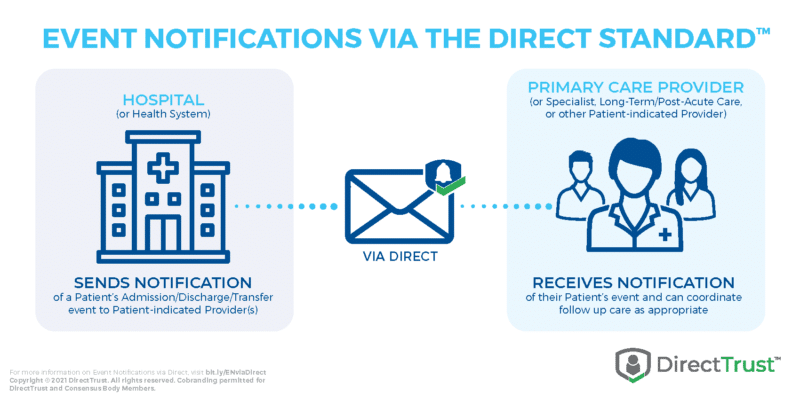 What is an event?
Events are occurrences in which another provider or care team would benefit from being notified. For instance, admissions, discharges, and/or transfers (ADT) from a hospital or emergency department are events which a provider or care team could benefit from knowing. 
What are notifications?
Notifications are the alerts generated by one care team to notify another care team/provider of an event regarding a mutual patient.
Why are Event Notifications important?
When care teams are informed, they are empowered. Knowing a patient has experienced an event of any kind allows a care team to have an opportunity to make the next best informed decision for that patient and reinforces the continuum of care.  This allows for smoother patient handoffs and helps reduce preventable readmissions.
Is there a regulatory obligation for Event Notifications?
Yes, CMS obligates hospitals (including psychiatric and critical access hospitals) to electronically send Event Notifications by May 1st 2021, as part of the CMS Conditions of Participation (CoPs).  This means if a hospital wants to receive reimbursement for CMS-insured patients, they must be able to send electronic Event Notifications.  
Who is required to comply with the regulation?
Under current regulation, hospitals (including psychiatric and critical access hospitals) are required to electronically send Notifications to providers of shared patients, but there is no requirement for other care settings to receive notifications or act upon them. 
Who's most likely to receive the notifications?
Primary care teams, post-acute providers, or other relevant specialists (as identified by the patient) will most likely receive Event Notifications.
How can the regulatory obligation be met?
There are many different ways a hospital could meet the obligation of sending electronic Event Notifications. One such method is using the Direct Standard™, an established communication standard for secure and encrypted patient information sharing from one point to another. 
What is the DirectTrust Notifications Consensus Body?
DirectTrust, the custodian of the Direct Standard™, convened a group called a Consensus Body to use the Direct Standard™ as a foundation of another Standard to meet the CMS CoPs for Event Notifications. The Consensus Body is made of 40 organizations and individuals working together to establish this solution. 
What solution is the DirectTrust Notifications Consensus Body proposing?
The DirectTrust Notifications Consensus Body created an Implementation Guide (IG) addressing how to leverage the Direct Standard™ for Event Notifications. This IG provides information for both senders of Event Notifications (e.g., hospitals) and receivers (e.g., primary care teams, post-acute providers, specialists). 
How did the DirectTrust Consensus Body come to this solution?
Because of the widespread adoption of Direct Secure Messaging in EHRs and other health IT technology, the Consensus Body agreed that Event Notifications via Direct provides the shortest path to compliance with the CMS ADT requirement.
Can you tell me more about Direct Secure Messaging?
Known simply as Direct, it provides a trusted, secure, and widely deployed mechanism for sharing health information that's as easy as email or fax. 
Available – Direct is available within your EHR, providing efficient communication with other providers/healthcare organizations to deliver the best possible patient care. 

Trusted – Direct uses the DirectTrust framework which requires identity verification, so you know and trust with whom you share health information.

Secure – Direct is as easy as email, but is designed to be HIPAA-compliant. Messages are authenticated and encrypted to ensure that personal health information (PHI) is sent securely and received only by authorized parties. 

Efficient – Used as an alternative to fax, Direct provides the ability to transmit structured data, so information like medications or allergies can much more easily flow into your EHR.

Adaptable – Direct is utilized to send referrals, consult notes, transitions of care across healthcare settings, and simple message content. 

Accessible through a National Directory – DirectTrust accredited organizations allow access to a network of nearly 2.5 million Direct addresses across the nation; many HISPs list addresses in the Directory and their customers can use it to look up addresses. 
In addition to the benefits of Direct Secure Messaging, what are the benefits of the DirectTrust Event Notifications solution?
Most importantly, the DirectTrust Event Notifications IG represents the shortest path to complying with the CMS Event/ADT Notification requirement at scale.  There's no need to set up a custom interface, and the usual data agreements with every provider with whom you might need to send Event/ADT Notifications are already in place.
Because the Direct Standard™ is content-agnostic, anything can be put in a Direct Secure Message. That means there were no changes required to the Direct Standard™ to utilize it for meeting the ADT Event Notification requirement by CMS.
Additionally, using Direct allows you to leverage the systems in place today for looking up providers' addresses and sending them Direct messages. This same infrastructure can simply be utilized since ADTs are just another instance where data is pushed to other care teams.
The Event Notifications via Direct IG takes advantage of a message's Context (i.e., information about the Direct message, such as message type, and other metadata like patient demographics, that allows it to be handled properly when received) in Direct messages being sent today, by introducing a new notification message type so that every receiver can tell what the Event Notification message is and who it's about.  This Context makes message routing possible so Event Notifications can be sent to the appropriate person on the Care Team and addressed appropriately. 
If this is based on an existing Standard, what development is needed by technology vendors?
There may be some development necessary for support of the Event Notifications workflow. Today, organizations have the ability to send the attachments that are required by the DirectTrust Notifications IG. While some organizations are sending Context in Direct messages today, they may not be able to translate Context in a meaningful way across organizational boundaries and outside of standing arrangements because there wasn't a mutually agreed upon code set for notifications. With the work of the DirectTrust Notifications Consensus Body, now there is an agreed upon expectation not just for the content of a message containing a notification, but also for explicitly communicating and translating the message's Context. 
Development will vary based on what work has already been done by a vendor.
The goal is that senders of Event Notifications will indicate notification Context by May 1, 2021, and receivers will develop appropriate workflows to leverage that Context. Development is not required by May 1, 2021, however, as the use of this particular Standard is not required by the CMS rule (senders and receivers may have other technology in place for handling notifications).
How can these Event Notifications be received?
Notifications are triggered upon an event and sent in near real-time Direct messages to patient-indicated providers or care teams. In many situations, these Event Notifications may be received in the same inbox or area where other Direct Secure Messages are received.
Do care teams have a choice if they receive these notifications?
If care teams are not already receiving these types of notifications, if they are discoverable in the DirectTrust Directory or another local address book they will begin to see them soon. While at this time there is not a regulatory requirement to receive or act upon these Event Notifications, these messages can provide benefits to patient care.
What can care teams do with these Event Notifications?
When care teams are informed of important patient events, they can follow up with the patient in a timely manner to provide guidance and/or follow up with ambulatory care or another care team member, possibly reducing readmission rates and improving patient outcomes. Event notifications facilitate communication, and timely communication can improve patient care. 
Share This Blog, Choose Your Platform!