Guest Post from Therasa Bell, Anupam Goel, and Lisa Nelson
Anupam Goel, MD, Chair of the Board of Directors for DirectTrust, recently sat down with Lisa Nelson, a Medical Informaticist at MaxMD, and Therasa Bell, President and CTO of Kno2, to talk about the recently released Implementation Guide Event Notifications via the Direct Standard™.  Watch their interview or read the transcript below for more insight into how Direct can address the CMS ADT Conditions of Participation.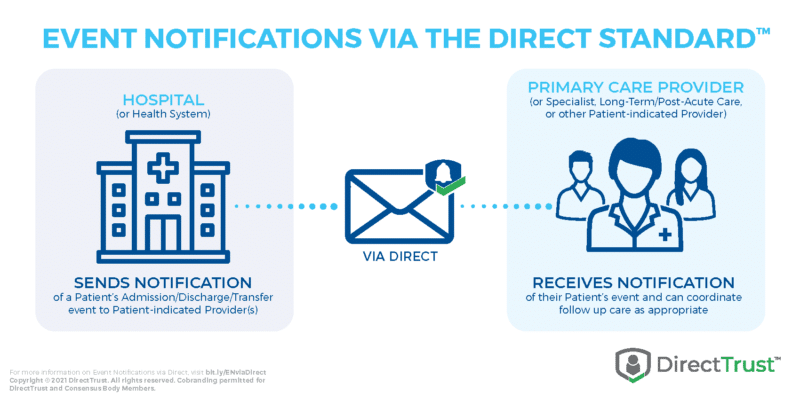 What are the benefits of using Direct to meet the CMS ADT Notifications Conditions of Participation?
Therasa Bell: I see it as a huge opportunity to ride in the tailwind of the largest network in the United States. With Meaningful Use, we saw every certified EHR, from 2014 certification and on, implement the use of Direct messaging, and that fabric has been laid across the United States.
The Directory has been established to utilize these communications. So there's never been a better time, a better technology to meet technology where it's at in healthcare and take advantage of the tailwind that the standard has already created, improve it a little and now see it really take off, and the use of Direct really have an impact on healthcare.
Lisa Nelson: Direct is perfectly positioned to make impact on this on this problem. It is push technology that is exactly what is needed to deliver an Event Notification. This is an opportunity to put something that's positioned, not only to meet the information exchange need, but also it's perfectly positioned because it's payload-agnostic.
We have the opportunity to make the message that's delivered fit the most sophisticated technological user, who's going to have an automated workflow that can take advantage of machine processed information, all the way to the simplest user, who just simply will get the human-readable notification of this and take action based on their manual workflows that they have. So, this is an opportunity that DirectTrust is perfectly positioned to help the industry make progress with.
Therasa Bell: And I think to Lisa's point we're again, meeting technology where it's at. With this Implementation Guide and just a few modifications to the Direct implementation, we have also future-proofed. The future is unlimited as to where Direct can go; we're going to start with Event Notifications, but that opportunity to use it for things such as out of range lab results, the opportunities are endless with just a few modifications to improve the infrastructure and see where this takes us in the future.
How do Event Notifications via Direct have the power to change healthcare?
Lisa Nelson: For so many years, we've been talking about getting the right information to the right people at the right time. I think that this initiative to get an admission, discharge, and transfer Event Notifications out is really about delivering on that dream.
This is the right information, obviously the notification of when these critical events are happening make it the right time, and then for that information to get to the right people, it's about distributing that in an effective and automated way. This is a practical initiative that's designed to meet the dream.
Therasa Bell: I couldn't agree more with what Lisa said, this is all about awareness. With technology that already exists and the ability to take a use case that impacts population health across the United States, the ability to generate an event where proactive communication, proactive engagement with the patient, the awareness to the provider, couldn't be more important than what we have today.
We get to see this use case come to life and really change how healthcare is delivered today.
Why should a hospital use Direct to meet the CMS ADT Conditions of Participation?
Therasa Bell: I don't see any other opportunity. Just kidding! This is a huge opportunity with a network that's already been established nationwide. Again, it's the largest network that you see in the United States already being effectively used, I think we passed the 2 billion transaction mark here recently in terms of the number of transactions going over the network.
This is where you're going to take the opportunity to meet healthcare where it's at, from the smallest provider…even paper-based providers could receive event notifications through portal tools and stuff… all the way up to the largest health system. All of them have this technology. All of them can take advantage of the use of Direct messaging. It makes the most sense; if we're thinking about the impact to the patient and empowering our care teams. Direct messaging is the most obvious option for delivering Event Notifications.
Lisa Nelson: I think you have to put your practical hat on and just look at what we're up against to meet these timelines and these mandates and say, what's really possible? What's a feasible option?
We all are watching what's going on with FHIR and the use of new API strategies, but this is still a future and it's not a proven technology that we can capitalize today. We can capitalize on DirectTrust today; Direct Secure Messaging is available. It's a hugely scalable technology that can have the kind of impact that our nation needs for these initiatives. It's flexible to work for everyone, not just groups that can process more sophisticated V2 or XD type messages. This is bringing the technology to a place where it can also support simpler workflows built around manual review and paper-based transactions.
Therasa Bell: I think Lisa brings up a very good point, that the opportunity with FHIR in the future also exists with Direct messaging, so it's absolutely future-proof to consider that as an option in the future. But today, this is where technology is at.
Most EHRs are designed to handle push-based workflows, to Lisa's earlier discussion, within their EHR and a push-based workflow has a lot of impact within the EHR. You have to make sure you've got the tools already embedded within the workflows to allow for something to come into your system, and to come in effectively, and what you're going to do with it.
Again, it's an infrastructure that already exists. With some improvement to that infrastructure, we can see this thing really take off.
Lisa Nelson: The opportunity to get start started right now is I think one of the biggest things, because we don't have to wait for FHIR to get started. By getting started today with the technology that we have, technology that works now, it's the opportunity to make sure that all of these other aspects of the workflow get dealt with.
We have the opportunity to improve our governance decisions about how we're handling the information and gathering consent to access and make the flow work from a governance point of view. We have the opportunity to upgrade our business processes and think about our technological workflows.
We can do all of that work. With the technology connection being over Direct, and then all that work will already have been done that as connectivity via FHIR becomes available, those other gating factors will already be more mature and more ready to take advantage of newer technology.
The Event Notifications via Direct Implementation Guide mentions Context. Can you describe what Context is for us?
Therasa Bell: What Context does for Direct messaging? I keep saying it puts Direct messaging on steroids. It takes the establishment of the protocol and now it adds a layer of intelligence to the message where I can quickly identify what it is.
So, it's an Event Notification, what type of Event Notification it is? Is it an Admit/Discharge/Transfer? And then who is it for? That allows all of the actors, from the sender, all the way to the receiver and the care team to quickly be able to act upon what they're receiving without having to open it up, process it, look at it, figure out what it is, which have been some of the improvements that have needed to be made in Direct. Now we're here!
Now we have this opportunity to add Context and oh, by the way, the Context can be used in the future for other types of notifications. We're just starting with ADT, but we're so excited to see this infrastructure be put into place.
Lisa Nelson: We've taken a look at what are these key fields of structured data that need to be easily accessible in the message, and push them into a context that's really easy for processors to extract and work with. It makes patient-matching easier, it makes routing the messages easier. The part of the Context also is providing that human-readable information, so that in situations where the connectivity needs to be with an organization that's not ready yet to process a sophisticated XDM message, for example, they have the benefit of being able to easily get access to the human-readable Context of the information.
As CMS is requiring hospitals to send Admit/Discharge/Transfer notifications as one of the Conditions of Participation, what should receivers of Event Notifications to be prepared for?
Therasa Bell:  This is a great question because the rule narrowly says senders, right? The rule is very focused to what the sender's requirements are, but the real opportunity for change sits on the receiver side, and what they can do with that Event Notification.
To be prepared for that as an Edge system…whether you're an EHR vendor, you could be a portal, you could be a mobile technology…is to make sure that you're implementing effective receipt and processing of those ADT Event Notifications, knowing that you're future-proofing for receiving additional types of notifications in the future.
Really think about the impact to your care team, knowing that they're already dealing with too much information today. Make it effective for them and allow them to do their job better.
Lisa Nelson: This is so much more than a checkbox activity. This is really an opportunity to change the way healthcare functions. I think that receivers should be thinking about this potential as being real. Perhaps in the past the technology wasn't there, or for information flow they needed to build notification workflows. That's going to be a thing of the past. Now even more the expectation would be, "well you knew that I just got out of the hospital, why didn't your organization contact me to help with medication reconciliation?", or to make it easier for the patient to follow up and get that appointment scheduled for the right follow up care.
The fact that Event Notification information will now be ubiquitously available means that that's not an excuse anymore for why we don't take this opportunity to really make better workflows as a result, better care coordination as a result of what we need to do after somebody has been hospitalized.
I know there are providers out there thinking about notifications creating more work for them to address. Can you help us think of how organizations might reduce that perception of additional burden?
Therasa Bell: Yeah, there's some practical steps. Absolutely, it's a concern, and it was a concern immediately as the Consensus Body came together was how do we make sure we're minimizing the impact and maximizing the effectiveness of how they receive Event Notifications.
On the receiving side, all the way down to that care team and the organization and so forth that are implementing, a very practical step is to make sure you review your Direct addresses. Today, there's a list of Direct addresses and a lot of them have been assigned by providers, or they have certain workflow addresses, but really you want to make sure that the Direct address that you've published (or Direct addresses that you've published) for this are made aware and published to the national Directory through your EHR. You've also communicated them to the community around you, to the most likely places that you will receive Event Notifications from…so the health systems in your area, the hospitals in your area…make sure that they know how you want to receive Event Notifications and where you want to receive on behalf of your organization.
Lisa Nelson: There's two areas here to think about this:
Number one, on the sender side, are the right fields of information being supplied to allow for effective filter?
Filtration is a very important aspect of keeping the noise down. We want to make sure that senders are committed to populating the Event Notifications with the right information to support filtration.
Then, on the receiving side, as Theresa said, organizations need to look at their inbound information and say, "Do we have the right addresses for our organization? Do we have the right addresses for our departments? Do we have the right addresses for these different purposes of use?"
These are addresses that are a design decision around how you're using Direct. We all know that trusted identities are the foundation of what makes DirectTrust special, and trust is the limiting factor for how quickly we can drive interoperability.
But with that said, individuals who are trusted within the network need to have efficient places and effective places where they can get access to information, or be protected from receiving information that really isn't relevant. So that combined factor, making sure that you have the right Directory design structure is an important side on the, on the receiving side from, from just having noisy events. Then on the sending side, it's really about commitment to supplying the right data that really supports the right filtration.
What does an organization need to do to send Event Notifications to help coordinate future care, long-term?
Therasa Bell: I think a very practical step that needs to be taken, same statement we gave on the receiving side also sits on the sending side, and it has to do with the Directory. Sending organizations need to make sure that their Direct address Directory is being updated into their internal provider directories and internal organization directories on a regular cadence, and that they've got a good discipline around how they handle the data for that, because we're anticipating seeing quite a load come from the receiving community where they've updated addresses, add addresses. We want to make sure that that's being communicated and effectively rolled out into the sending systems and that they have the most recent information.
Lisa Nelson: This is one of the tough parts that you have to consider about new technology is every time you solve one problem, the pain shifts someplace else. I think that as Therasa said, it's going to become obvious that the next place we need to focus is on how to improve the directories that are available on the sending side, so that senders can in fact identify the right address where receivers want to be receiving this, so that it won't just be noise, but that notifications will really have the right impact.
How can a care team member be part of the change you're describing?
Therasa Bell: I think care team members have the opportunity to really start implementing effective processes to go into place. The request of the care team members and the responsibility that has been placed on primary care providers and family care docs is to manage the health of their patients, and here they have the opportunity to put in workflows, for instance, to manage things like medication reconciliation, when their patient's been discharged, or managing a follow-up appointment, making sure that their patient gets the care that they need. Significant opportunity with the right events served up to them that the care team has to really change how healthcare is delivered.
Lisa Nelson: I've been working with Therasa within the group at DirectTrust that has been developing the Implementation Guide that's being released on how to do this. A lot of our design focus has been on how we get the notifications from the sender to the receiver. I think the next step that really needs to happen on is for organizations who will be receiving this information to think about how to ready their workflows and the new workflows that may become available because they can be triggered by this new notification information.
I think that there's some important next step work to be done, working with EHRs to design the workflows that will happen as a result of receiving the notifications.
That might mean just the workflow of receiving them themselves, but also what workflows will be triggered off from that. Where will the notification information go? What will it impact in terms of alerts on some kind of a notification page? Or how a patient's record might be updated as a result of receiving the alert to know that there was a hospital admission and when that admission took place.
Therasa Bell: I think to Lisa's point, we've never at DirectTrust had the opportunity to work with such a wide variety of technology vendors and, actors that will play it from the sending all the way to the receiving side, to the actual follow-up to the patient. The Consensus Body has been represented by 40 different organizations and that's everything from the HISP community, of course, EHR vendors, we've had third-party subscription service providers, providers, and even patient representation, which has really given us a unified voice as to what the end to end workflow needs to look like, and how it needs to be implemented.
Lisa Nelson: Yeah, the senders are already actively thinking about these things, but I think this is a great opportunity for receivers of this information to also be taking the next step and thinking with their EHR companies and their HISP vendors, "what does this mean to us and how could we start to take advantage of it?"
How soon can organizations use Direct for Event Notifications?
Therasa Bell: This can actually be implemented very quickly. With the participation that we've had from the entire vendor community, we're seeing vendors implement actively, even before we've gotten to a finalized state. Now we are in a position where the draft Event Notification Implementation Guide is available for the community from the EHR vendor to the HISP system, to third-party subscription services to start their work effort. A lot of time and thought has gone into the Implementation Guide to limit the work impact to each of those actors. There are some requirements and some updates to be able to implement for Event Notifications, so the time is now.
We're expecting to be ready in that spring timeframe, right in line with the CMS requirements for a May roll out.
Lisa Nelson: Yes, implementers are able to get started on this right now. One of the things that we're doing is DirectTrust is holding an Adoptathon in April so we can proactively work through any kinds of connectivity issues and really confirm that this technology, that various people, organizations will begin to implement right away. They will have a chance to come together and test out connectivity issues, work out any bugs like that and we'll be right on track for the deadline that's coming in May.
What should someone do if they want to learn more about Event Notifications?
Lisa Nelson: The one thing they can do is watch a couple of more of these videos that we've made! We have a string of them available, just short clips that'll answer all your questions and help you get jump-started.
Then when you're ready to dig into the specification, you can download the DirectTrust Event Notification IG from the DirectTrust website.
You can start conversation with your EHR, or reach out and talk with your HISP. They're both organizations that can help you with process level and some of the implementation details that you might be wondering about.
Therasa Bell: The Consensus Body and participating members, such as Lisa and myself and others, are going to be working hard to make resources available along the way to the entire community, and resources that are applicable to the role that you play and understanding what you can do.
Whether you're a sender all the way to the receiver and the care team and the patient, what you can do to see this be implemented successfully. You'll see resources come out over the next few months, that will answer your questions: best use cases, lessons learned. There'll be a lot of opportunity to educate the public on how to move forward.
Lisa Nelson: Bookmark the DirectTrust website, it'll be a good place to go as a resource!
Learn more about Event Notifications via Direct or Direct Secure Messaging!
Share This Blog, Choose Your Platform!