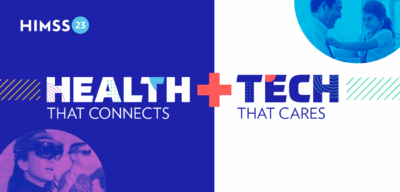 The HIMSS Global Health Conference & Exhibition is the most influential health information technology event of the year, where 40,000+ professionals throughout the global health ecosystem meet to build relationships during lively networking events, learn from experts in hot topic education sessions, and discover innovative health tech products to solve their greatest challenges.
DirectTrust is excited to be a Collaborator of HIMSS23! As such, our members receive the HIMSS member rate to attend. To register, visit HIMSS23 General Registration and sign in. Once on the General Registration page, select the Chapter or Collaborator tab on the left-hand side. Select your preferred HIMSS23 Pass and enter DirectTrust as the Referring Collaborator Organization to receive the HIMSS member rate on registration.
---
Where to find DirectTrust:
Digital Identity Federation in Health Care | The CARIN Alliance and Department of HHS Digital Identity Proof of Concept
Tuesday, April 18, at 1:30 p.m.
Featured panelist: Kyle Neuman, Director of Trust Framework
Additional DirectTrust Board of Directors and Member Panelist: Julie Maas, EMR Direct
Location: South Building, Level 1 | S102
Details: Over the last year, the CARIN Alliance and FAST worked with HHS, CMS, ONC, and more than 25 private sector partners including health systems, payers, third-party applications, and trust framework organizations to test the largest and most comprehensive digital identity ecosystem open framework. We will be sharing a report that describes our lessons learned, best practices, and next steps for how we can have a fully interoperable, voluntary, federated digital identity ecosystem in health care as we move to a modern identity and access management ecosystem that supports OpenID Connect.
---
Interoperability & HIE Breakfast Panel: Preparing for Rapid Acceleration of Data Exchange
Wednesday, April 19, from 7:30 a.m. to 9:30 a.m.
Featured panelist: Scott Stuewe, President and CEO
Location: North Building, Level 3 | Hall B | Booth 7946 | Interoperability Showcase
Details: In 2023, interoperability remains a critical focus, with national data exchange (TEFCA) and public health modernization at the forefront of the public policy agenda. The groundwork was laid at the end of 2022, as Electronic Health Record (EHR) Technology was certified to include open FHIR APIs exposing the U.S. Core Data for Interoperability (USCDI) dataset for the first time. This raised the interoperability and access floor across the industry.
Expectations are high for what the introduction of new APIs, trust frameworks, and priorities will mean for patient care. One thing is for sure: we are headed into an era of rapid innovation that will translate into an unprecedented workload on our data management infrastructure. Join us for breakfast and learn from an expert panel about what is driving modernization and what steps we can take to ready infrastructure and take advantage of hyper-scale, secure cloud capabilities to support innovation in patient care.
This event has been standing-room-only year after year! A networking breakfast occurs before the educational panel.
*Registration requested, space is limited. There is no additional fee and a light, complimentary breakfast will be served to all registered guests. Please register by completing the survey here.
---
Interoperability Showcase
Location: North Building | Hall B | Booth 7946
DirectTrust is a proud non-profit partner sponsor of the Interoperability Showcase, and involved in the followed demonstrations.
360X and Multimodality Technology to Support Care Transitions, at :15 minutes past the hour
Leveraging Carequality and 360X Transitions, at :45 minutes past the hour
---
HIT Like a Girl Coffee Networking Event
Tuesday, April 18, at 7:00 a.m.
Attendees: Scott Stuewe, President and CEO; Kathryn Ayers Wickenhauser, Senior Director of Community Strategy
Location: Hyatt Regency McCormick Place, Level 3 | Ontario
Details: Join us for a morning of coffee, conversation, and connection with other trailblazing women in the health IT industry at HIMSS in Chicago. Whether you're new to the field or a seasoned pro, this is a unique opportunity to connect with like-minded individuals and expand your professional network. So, bring your cup of ambition, and let's raise a toast to the power of female collaboration and success in health IT!
---
Patient ID Now Happy Hour
Tuesday, April 18, at 5:30 p.m.
Attendees: Scott Stuewe, President and CEO; Kathryn Ayers Wickenhauser, Senior Director of Community Strategy
---
Where to find DirectTrust Members and Accredited Organizations:
Find us visiting their booths:
ABILITY, An Inovalon Company: Booth 2244
athenahealth: Booths 2031, VHQ2495 | Interoperability Showcase Booth 7946-71
Availity, LLC: Booth 8336
AZUBA: Interoperability Showcase Booth 7946-09
Brightree: Interoperability Showcase Booths 7946-04, 7946-59
CommonWell Health Alliance: Interoperability Showcase Booth 7946-40
Concord Technologies:  Booth 3780
Conduent EDI Solutions, Inc.: Interoperability Showcase Booth 7946-02
Consensus Cloud Solutions: Booths 1876, VHQ1695 | Interoperability Showcase Booth 7946-45
CureMD.com, Inc.: Booth 2263
DataMotion: Booth 8320
eClinicalWorks: Booths 1267, VHQ1488 | Interoperability Showcase Booth 7946-74
EMR Direct: Present in the FAST Kiosk from 12-2 on Tuesday
EtherFAX: Booth 2853
FinThrive Healthcare, Inc.: Booth 3670
Harmony Health: Booth 2857
Health Catalyst: Booth 2812
Innovaccer, Inc.: Booth 2216
Kno2: Interoperability Showcase Booth 7946-51
Luma Health: Booth 879
MedAllies: Interoperability Showcase Booths 7946-50, 7946-78
MedicaSoft: Booth 6009-01

NextGen: Booth 1916 | Interoperability Showcase Booths 7946-66, 7946-67
Office Ally, Inc.: Booth 4639
Open City Labs: Booth 6009-76
Optum: Booth 1231
Oracle (formerly Cerner): Booths 921, VHQ016, VHQ031 | Interoperability Showcase Booth 7946-42
Orion Health: Booth 2643
Point of Care Systems, LLC: Interoperability Showcase Booth 7946-12
Quest Diagnostics: Booth 6536
Retarus: Booth 1778
Secure Exchange Solutions: Booth 4074
SSI Group LLC.: Booth 319
Surescripts: Booth 1851
Updox (Evercommerce): Booth 6612
Veradigm (formerlly Allscripts): Booth 3681
Their Speaking Engagements:
Monday
Tuesday