State of Healthcare Interoperability Virtual Summit 2023
December 6 | 12 – 4:30 p.m. ET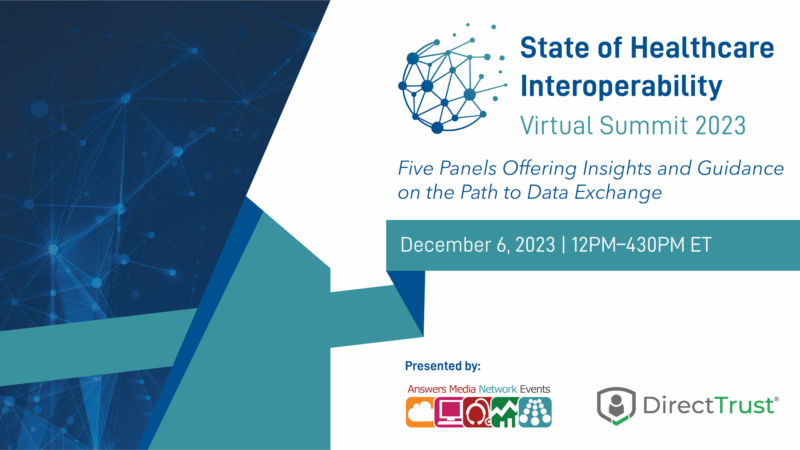 Join DirectTrust and Answers Media Network for a free half-day virtual Summit on the current and future state of interoperability.
Hear from industry leaders on Wednesday, December 6, from 12 – 4:30 ET, on hot topics, including what's new and what's next regarding data quality and usability, patient identity, use cases for interoperability, engaging patients, and the future of interoperability.
Session Themes
Propelling Interoperability through Data Quality and Usability
Data is flowing because of interoperability – now what? Data quality ensures that our exchange of data through interop gives it the best chance of being useful to the receiver. This panel will focus on initial steps and considerations to make the most of your data and interoperability.
The Identity Issue: What's New in Patient Identity and Matching
Patient Identity and Patient Matching have become increasingly popular subtopics of interoperability, and for good reason. Without trustworthy processes, strong standards and federated protocols, interoperability is hindered by the ability to identify and match patients. Join this panel for the most up to date thinking and considerations regarding both identity and patient matching, including through a privacy and security lens.
Popular and Emerging Use Cases for Interoperability
A lot of conversation has recently been around the promise of TEFCA to enhance interoperability, but we know the interoperability ecosystem is vast and TEFCA is a piece of a greater puzzle. Hear from this panel as they describe popular and emerging interoperability use cases complementary to and separate from TEFCA as we put the interoperability puzzle together.
Engaging Patients, Consumers, and Care Partners in Interoperability
Interoperability centers around the idea of information exchange to benefit patients, yet we frequently don't center or involve patients, consumers, or care partners in our conversations. Learn more from this panel about how to further consider and engage these key stakeholders.
The Future State of Interoperability
What can we expect next in interoperability? Join this panel as they discuss what's on the horizon and how to be prepared for the next evolution of interop.
MODERATORS INCLUDE:
– Susan Clark, Senior Director of Program Development, DirectTrust
– Kyle Neuman, Director of Trust Framework Development, DirectTrust
– Kathryn Ayers Wickenhauser, Senior Director of Community Strategy, DirectTrust
– Grace Vinton, Patient Advocate and Host of HITea With Grace
– Jim Tate, President of EMR Advocate
PANELISTS INCLUDE:
– Dr. Kel Pults, DHA, MSN, RN-BC, Chief Clinical Officer and VP of Government Strategy, MediQuant
– Didi Davis, VP, Informatics, Conformance & Interoperability, The Sequoia Project
– Katherine Lusk, VP Strategic Partnerships at Texas Health Services Authority
– Michele Darnell, President, Secure Exchange Solutions
– Adam Russell, VP, Strategy and Partnerships, Healthy.io – Anne Santifer, Executive Director, OHIT/SHARE
– Grace Cordovano, PhD, BCPA, Co-founder Unblock Health
– Muhammad (Mo) Chebli, VP, Solutions, NextGen Healthcare
– Justin Villines, MBA, BSM, Health IT Policy Director, Arkansas SHARE
– Lisa Nelson, Senior VP, Ad Vault