The following organizations have indicated they will be implementers of Event Notifications via Direct. Click on the organization name to learn more about them and their Event Notifications via Direct solution!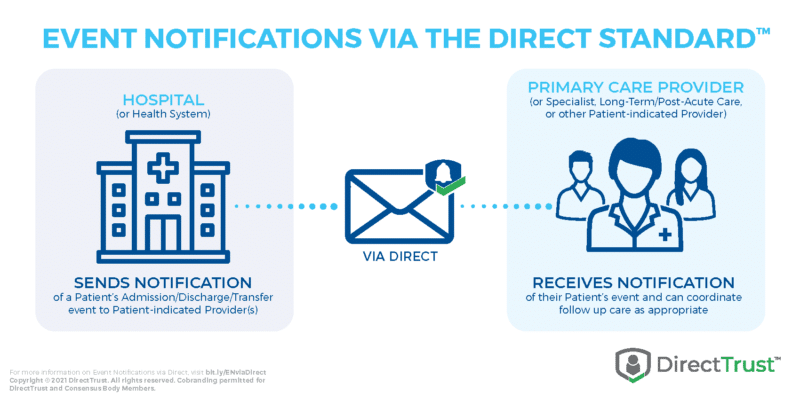 With well over a decade of enabling care coordination by routing real-time patient information among physicians, health plans and hospitals, our solutions are fundamentally focused on enabling safer transitions of care. We are excited about the Direct Standard™ Implementation Guide for ADT notifications since it refines the standards and will allow improved provider workflow

– Samit Desai, Chief Medical Officer
At iShare Medical we are pleased to be implementing this exciting new standard for Event Notifications that will help improve care coordination reduce cost, and support new payment and care models. We believe this new DirectTrust standard will play a vital role in interoperability in this decade.

– Linda Van Horn, President and CEO
Care can be transformed with event notifications and Direct messaging by finally placing the right clinical information in the right hands at the right time to take action! We are thrilled to participate in this effort!

– Therasa Bell, President and CTO
MedAllies, leveraging DirectTrust, powers many leading CMS CoP event notification solutions enabling hospital clients to comply with this crucial mandate. Through our EHR and third-party strategic partnerships, we're providing the right solution for both the senders and the receivers throughout their embedded workflow.

– Tom Visotsky, Chief Commercial Officer
PatientPing utilizes event notifications to coordinate care among hospitals, health systems, ACOs, post-acutes, health plans, POs, HIEs, and community providers across the nation to ensure patients receive the best care possible and improve organizational outcomes.

– Jitin Asnaani, Head of Partnerships and Government Affairs
Direct Secure Messaging is a proven technology for the last decade, has been a real secure and fast solution in the middle of the pandemic. Implementing the Event Notifications using a proven, in-place and accredited technology is a bulletproof method to reach a successful, secure, fast and happy 😃 ending.

– Janet Rios, Founder
Share This Blog, Choose Your Platform!