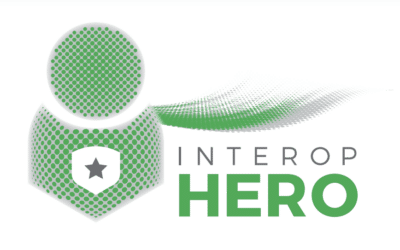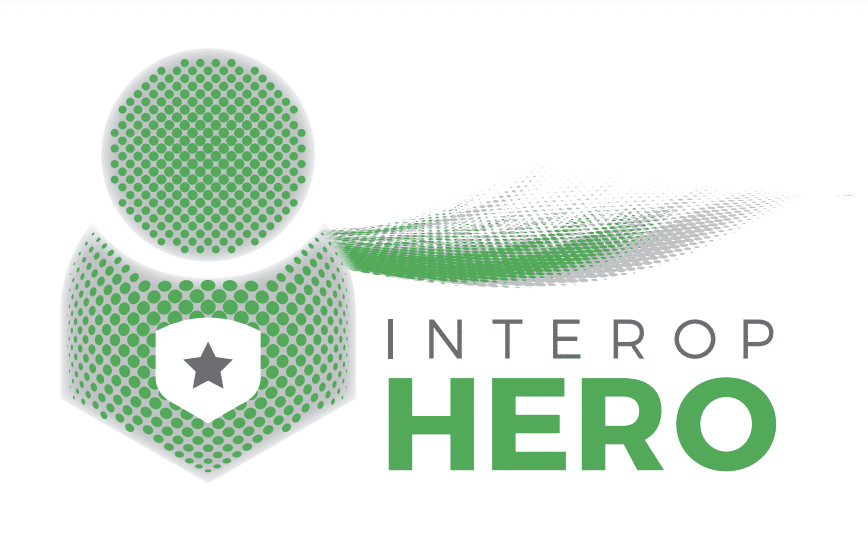 We introduced the Interoperability Hero Initiative in 2021, and we're pleased to recognize the following individuals as part of our sixth class of Interoperability Heroes! Learn more about those selected as Interoperability Heroes below, including words from their nominators as to why they are deserving to be recognized as Interoperability Heroes.
If you know a Hero that you would like to nominate, contact us to be informed when we open the next round of nominations. Learn more about the Interoperability Hero Initiative here.
Q3 2023 Interoperability Heroes
Zoe Barber (The Sequoia Project)
Zoe has an incredible history of advancing interoperability policy at both the state level, at New York eHealth Collaborative, and at the federal level, with the Office of the National Coordinator for Health IT (ONC), and most recently the TEFCA Recognized Coordinating Entity (RCE) Sequoia Project. She is able to bring together multiple and diverse stakeholders – as is exemplified in the #InteroperabilityMatters Information Sharing Workgroup – to build consensus and make actionable recommendations to organizations and individuals so they may comply with the information blocking rule and ensure interoperability of health data.

Zoe has facilitated tremendous advancements for TEFCA as Policy Director at the Sequoia Project through SOP development, monthly RCE stakeholder calls, and an overall willingness to personally engage with relevant groups to make progress.

Zoe is committed to interoperability. She is an amazing knowledge resource, and a great (and patient) mentor to individuals who are new to the interoperability field.
Jason Johnson (Spokane VA Medical Center)
Jason is medical support assistant supervisor at Spokane VA Medical Center in Spokane, WA, who has worked diligently to expand the use of VA Direct, spearheading its use at Spokane VAMC and championing its expansion across the industry. He is a veteran himself who is dedicated, passionate, and driven in his effort to improve the lives and health outcomes of veterans,

Under Jason's leadership, VA Direct Messaging allows the Spokane VA Medical Center team to approve processes informational flow, and any other elements related to veteran health care. The system has helped improve the coordination of patient care for veterans in Spokane and allowed the medical center to process more referrals on a daily basis.
Jocelyn Keegan (Point of Care Partners)
Jocelyn has led the HL7 Da Vinci Project from its inception, championing the project and its members, providing encouragement where necessary and giving a spotlight to members doing innovative and effective projects that the entire industry can learn from. Jocelyn utilizes a variety of platforms to educate the industry on what is working. She is generous with her advice, guiding peers on how to be a change agent in their respective organizations to help progress us all on the march toward interoperability.

Jocelyn is an inspiration, and is tireless in her pursuit of broadening interoperability, going so far as taking calls over the weekend from industry peers who have questions about the Da Vinci Project and beyond. When Mister Rogers says, "Look for the helpers," Jocelyn comes to mind. Her passion to make a difference and commitment to progressing interoperability is contagious. Our industry would be less vibrant without her leadership.
Steven Lane, MD (Health Gorilla)
Steven is a well-known leader in the world of health data, who uses his deep industry knowledge and connections to lead several organizations and initiatives to success.

Steven has been creating tools and refining standards for interoperability for over 25 years, including as Clinical Informatics Director of Privacy, Information Security, and Interoperability at Sutter Health and currently as Medical Director at TEFCA QHIN-eligible Health Gorilla. He grounds his interoperability work in practice as a family physician and infuses this experience into boards and committees throughout the HIT ecosystem.

Steven was a founding co-chair of DirectTrust's Clinician Steering Group that defined the potential of the Direct protocol to transform clinician workflow and thereby quality of patient care. He serves as Chairman of the Carequality Steering Committee, on The Sequoia Project Board of Directors, a member of the ONC's Health Information Technology Advisory Committee, the HIMSS Interoperability & HIE Committee, and the Da Vinci Project Clinical Advisory Council. Steven exemplifies how the American health system is learning, using and proving the value of interoperability of health information exchange.

He is also helping the California Health and Human Services Agency (CalHHS) Center for Data Insights and Innovation to develop and implement the state's first-ever healthcare Data Exchange Framework (DxF).
Shelley Mannino (Velatura)

Every year in Florida, thousands of youth aged 17 and younger are involuntarily taken for psychiatric evaluation because they are deemed a threat to themselves or others. To address the urgent need for an innovative solution to support vulnerable youth, Velatura partnered Children's Services Council of Broward County to create the "We Are Supported" Integrated Data System (IDS).

Under Shelley's leadership, the IDS was developed as a groundbreaking family-centered technology solution, facilitating access to services that have a profound impact on mental health and wellness for community youth. The IDS transforms clinical, social, and behavioral health information into FHIR resources that enable comprehensive care coordination. By integrating data from a wide range of support services, including community and social services, juvenile justice, education, behavioral health, and healthcare, the IDS ensures that youth who have been involuntarily admitted for psychiatric evaluation receive holistic care tailored to their unique needs.

With Shelley at the helm, this innovative solution has the potential to bridge information gaps in clinical, social, and behavioral sectors across the United States. The approach Shelley has championed sets a precedent for the kind of collaboration and technology that can positively impact the lives of countless individuals.
Jay Nakashima (eHealth Exchange)
As the leader of eHealth Exchange, Jay Nakashima is forging the path ahead for healthcare by promoting interoperability on a national scale. Overseeing the U.S. largest healthcare information network, his leadership led to eHealth Exchange being recognized as one of the first candidate Qualified Health Information Networks (QHINs) this year under the Trusted Exchange Framework and Common Agreement (TEFCA). Through eHealth Exchange's QHIN outreach, a growing number of HIEs have signaled their intent to participate in QHIN-based exchange through the eHealth Exchange.

Additionally, under Jay's leadership, eHealth Exchange has grown to include 61 or 77% of state/regional HIEs, 75% of hospitals, 85% of dialysis centers, and Federal agencies. Members report streamlined disability determinations, simplified health reporting, and reduced time and costs to connect with data exchange partners.
Lisa Nicolaou (Michigan Health Information Network)
Lisa is an exceptional leader whose dedication to improving the lives of individuals and communities through enhanced coordination of care is evident through her work with Cross Sector Data Sharing at the Michigan Health Information Network (MiHIN), including the Interoperable Referrals Pledge and the Community of Practice (CoP).

Under her guidance, eight leading social care platform vendors have come together to address the pressing challenge of sharing data related to social needs identification, referrals, interventions, and outcomes. This collaborative effort represents a significant step forward in bridging the gap between health and social care, ultimately benefiting those in need, and facilitating the creation of new knowledge that advances the domain of professional practice in healthcare and social care.

What sets Lisa's leadership apart is her dedication to fostering trust and collaboration among organizations in a competitive and currently unregulated space. Her commitment to building trust mirrors the trust that must be facilitated between patients and providers to ensure holistic healthcare. Lisa's tireless efforts in creating a shared perspective on privacy and governance for social care data demonstrate her commitment to responsible data handling.
Sandeep Savarala (Boston Consulting Group)
Sandeep is an experienced software developer, utilizing his skills to advance health care interoperability through a number of platforms and programs. Sandeep is the lead developer of the HealthIT.gov Edge Testing Tool, a collection of testing utilities created to validate the requirements of the 2015 Edition and the 2015 Edition Cures Update Health IT Certification Program.

Additionally, Sandeep's work enabled interoperability in the following areas: Direct, S/MIME, SMTP, IMAP, POP, CCDA, FHIR, XDR, and Direct V 1.2.
Michelle Suitor (UHIN)

Michelle is a master networker and instrumental collaborator. She has participated in and initiated vendor user groups, volunteered on local community boards, and joined local professional networks to learn as much as possible about different areas of the industry and leverage her knowledge to facilitate collaboration.

Michelle is a part of the HDH user group, and used that as a basis to start an Outcome Health user group to facilitate discussions about best practices across HIE vendors using the same platform. She serves on the WY-FI executive steering committee as a mentor providing guidance around best practice processes, and is a member of the AAPC and Utah Association for Healthcare Quality. Michelle recently joined the UT HIMSS Board of Directors as the HIE Chair. Finally, Michelle has leveraged her skills and network to reach a broad spectrum of talented leaders across the industry to participate in the upcoming UHIN Conference. With her strong commitment to networking and collaboration, Michelle has undoubtedly made herself a valuable asset to the healthcare industry.
Alan Swenson (Carequality)
Alan is the Executive Director of Carequality, a nonprofit, multi-stakeholder collaborative working to enhance national interoperability. In his role, Alan tackles a multitude of challenges, including technical and policy agreements for enabling health data sharing across networks, technologies and geographies. He has worked to enable nationwide healthcare coordination using the health data sharing framework.

Additionally, Alan worked to expand Carequality's framework to exchange more than 400 million clinical documents per month and has made it possible for federal agencies and healthcare providers to share information with each other, connecting the Carequality framework to the Social Security Administration (SSA) for disability claims adjudication, and working toward connectivity with Department of Veterans Affairs (VA), Department of Defense (DOD), and others.